FATBURNERS.AT - Online Shop
NOW Foods Super Enzymes Tablets
Enzymes are essential for humans, they are involved in every physical process and contribute to the metabolism. With the help of enzymes we are able to utilize vitamins and minerals in our body.
Due to illness, stress or a specific diet it can happen that we don't get enough enzymes. Moreover enzymes are very heat-sensitive and become restricted in their effects when exposed to high or low temperatures.NOW foods created with Super Enzymes the ideal dietary supplement to compensate deficits and create a good balance of enzymes in your body.
Super Enzymes is a comprehensive, highly concentrated blend of enzymes. They support a healthy digestion, optimize nutrient availability and break down fats, protein and carbohydrates. The intake of the supplement may also ease pain due to gastrointestinal complaints, diarrhoea or flatulence. This product was especially created for athletes who need to eat a lot and have high nutritional requirements due to their intense training.
---
NOW Foods Super Enzymes Tablets suggested use:
Take 1 capsules a day with food.
Before taking this product consult with your healthcare physician.Do not exceed the recommended daily dose. This product should only be consumed by healthy adults over 18 years. Nutrition supplements should not be used as a substitute for a balanced and varied diet. Keep out of reach of children. Store in a cool, dry place after opening.
---
NOW Foods Super Enzymes Tablets Ingredients and nutritional information:
Calcium, Betaine Hcl, Ox Bile Extract, Papaya Fruit Powder, Enzym Mischung: Pancreatin 10X Supplying: Amylase 37,000 USP Units. Protease 37,000 USP Units, Lipase 2,960 USP Units , Bromelain, Papain, Cellulase, Acid Stable Protease
Summary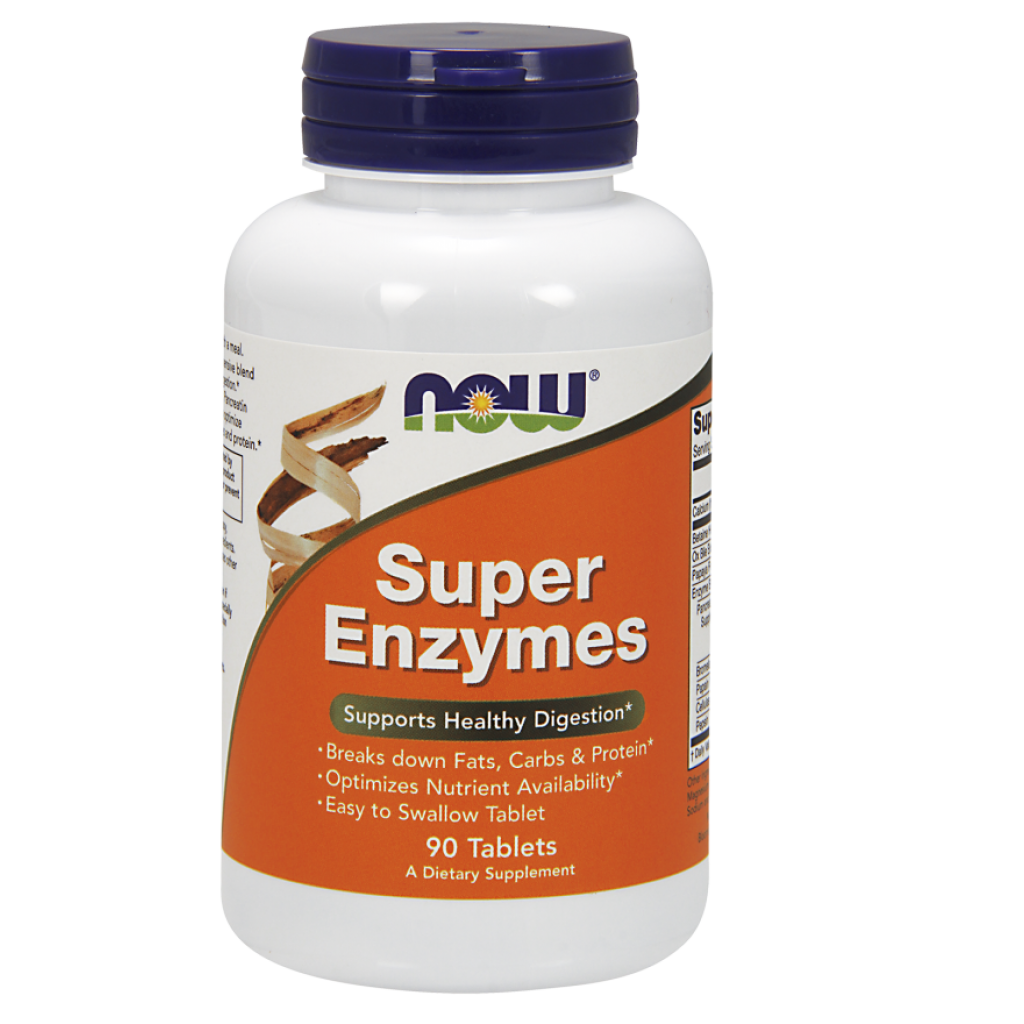 Author Rating
Brand Name
Product Name
Price
Product Availability