FATBURNERS.AT - Online Shop
NOW Foods Eve™ Women's Multiple Vitamin Softgels
Eve Women's Multiple Vitaminwas created to for the well being of women in all stages of their life. The body of adolescent females for exmple is still growing and needs special nutrients for this phase. Zinc, Calciumand Vitamin Aand Dsupport the developing immune system and the hormonal balance and are essential for the skeletal structure. Meanwhile Vitamin Bhas a positive effect on the emotional and mental development.
But grown up women and mothers can benefit from this efficient mix of essential vitaminsas well. The substances strengthen the immune system and can elevate the mood. Especially during the dark month in Winter an additional supply with Vitamin D3is recommended. This capsules can provide all this substances.
NOW foodshas created a product that is a reasonable complement to your every diet. Eve Women's Multiple Vitamin softgel capsules deliver you all vital vitamins and minerals in exact the right amount.
---
NOW Foods Eve™ Women's Multiple Vitamin Softgels suggested use:
Take 3 capsules a day with food.
Before taking this product consult with your healthcare physician.Do not exceed the recommended daily dose. This productshould only be consumed by healthy adults over 18 years. Nutrition supplements should not be used as a substitute for a balanced and varied diet. Keep out of reach of children. Store in a cool, dry place after opening.
---
NOW Foods Eve™ Women's Multiple Vitamin Softgels Ingredients and nutritional information:
Vitamin A, Vitamin C, Vitamin D-3, Vitamin E, Vitamin K, Thiamin, Riboflavin (Vitamin B-2), Niacin (Vitamin B-3), Vitamin B-6 , Folate, Vitamin B-12, Biotin, Pantothenic Acid (Vitamin B-5), Calcium, Iron, Iodine, Magnesium, Zinc, Selenium, Copper, Manganese, Molybdenum, Potassium, Evening Primrose Oil, Cranberry Concentrate, Horsetail Extract, Alpha Lipoic Acid, Choline, Grape Seed Extract, Green Tea Extract, Inositol, CoQ10, Lycopene, Lutein
Summary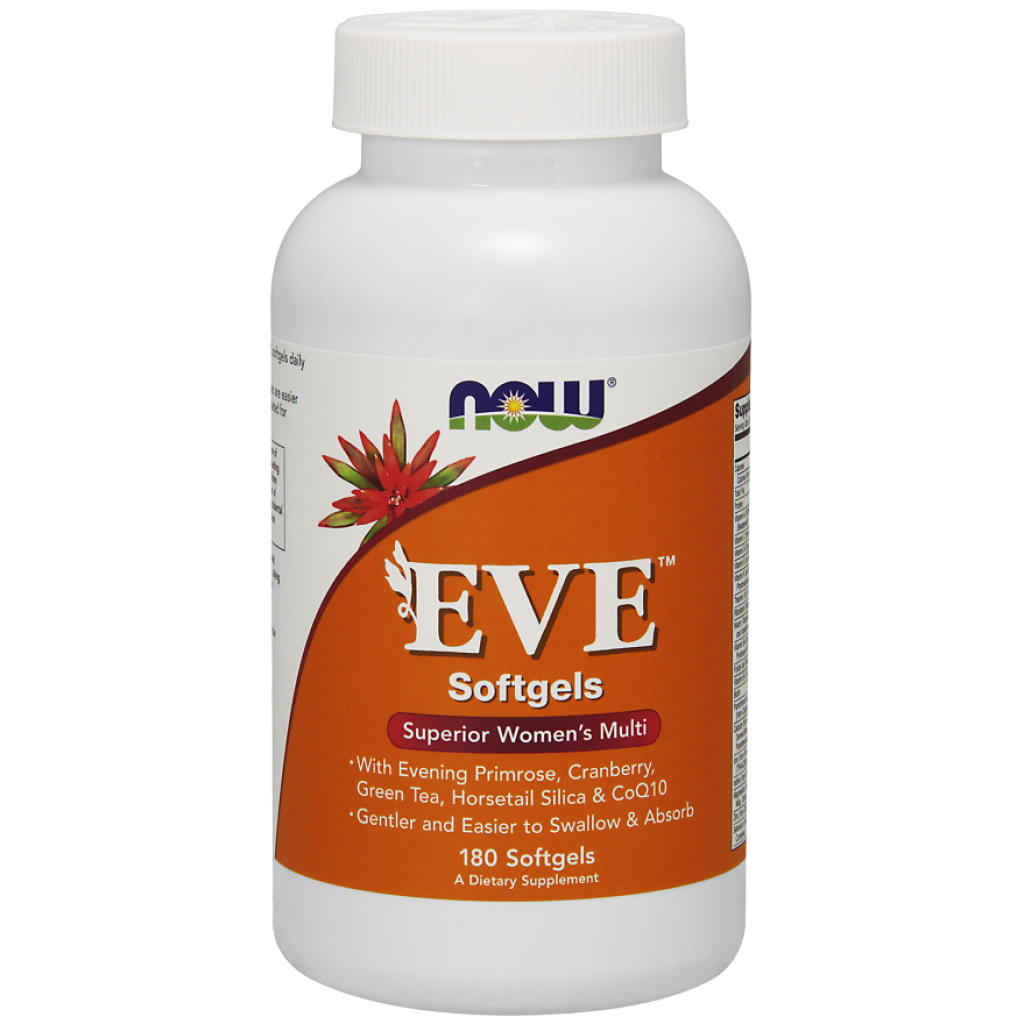 Brand Name
Product Name
Eve™ Women's Multiple Vitamin Softgels
Price
Product Availability