FATBURNERS.AT - Online Shop
NOW Foods Special Two Multi Vitamin Capsules
Special Two combines in one capsule in a high dose all important vitamins our body needs to function and stay healthy.
In times of stress and illness or when your diet is not balanced, your body may experience a nutrient gap in your daily life. This capsules from NOW foods with multiple vitamins help you to get the daily recommended allowance of vitamins, minerals and other nutrients on a regular base. High-value compounds provide a high bio availability and best possible absorption.
With the help of this multi vitamin supplement you will feel more energy and well-being in your everyday life. Vitamin A, C and Das well as zinc support your immune defence, while B vitamins are used for a stable function of your nervous system. To support the health of your muscles the product from Now foods contains the minerals calcium, potassium and magnesium.
Special Two is good for you and your body, to ensure a long-term and continuous supply with all important vitamins and minerals.
---
NOW Foods Special Two Multi Vitamin Capsules suggested use:
Take 4 capsules a day together with food, divided into 1 or 2 portions a day.
Before taking this product consult with your healthcare physician.Do not exceed the recommended daily dose. This product should only be consumed by healthy adults over 18 years. Do not take if you are pregnant, nursing or may become pregnant. Nutrition supplements should not be used asa substitute for a balanced and varied diet. Keep out of reach of children. Store in a cool, dry place after opening.
---
NOW Foods Special Two Multi Vitamin Capsules Ingredients and nutritional information:
Vitamin A (100% as Beta-Carotene), Vitamin C (from Calcium Ascorbate and as Ascorbic Acid), Vitamin D (asErgocalciferol), Vitamin E (as d-alpha Tocopheryl Succinate), Thiamin (Vitamin B-1) (from Thiamin HCl), Riboflavin (Vitamin B-2, Niacin (Vitamin B-3) (as Niacinamide), Vitamin B-6 (from Pyridoxine HCl), Folate (as Folic Acid), Vitamin B-12 (as Cyanocobalamin), Biotin, Pantothenic Acid (from Calcium Pantothenate),
Calcium (from Calcium Carbonate and Calcium Ascorbate), Iron (from Ferrochel® Iron Bisglycinate)(TRAACS®), Iodine (from Potassium Iodide), Magnesium (from Magnesium Oxide), Zinc (from Zinc Picolinate), Selenium (from L-Selenomethionine), Copper (from Copper Bisglycinate) (TRAACS®), Manganese (from Manganese Bisglycinate)(TRAACS®), Chromium (from Chromium Picolinate), Molybdenum (from Sodium Molybdate), Potassium (from Potassium Chloride), Choline (from Choline Bitartrate), Inositol, PABA (Para-Aminobenzoic Acid), Organic Spirulina, Chlorella (Broken Cell Wall), Alfalfa Juice Concentrate (Aerial Parts), Alpha Lipoic Acid, Green Tea Extract (Leaf), Milk Thistle Extract (Fruit/Seeds)(Standardized for Silymarin), Rutin Powder (Sophora japonica) (Flower Bud), Alfalfa (Leaf/Stem), Organic Rose Hip Powder (Fruit), Lutein (from Marigold Flowers Extract) (FloraGLO®), Lycopene (from Natural Tomato Extract), Amylase (50 SKB), Lipase (800 LU), Bromelain (from Pineapple), Papain (from Papaya)
Summary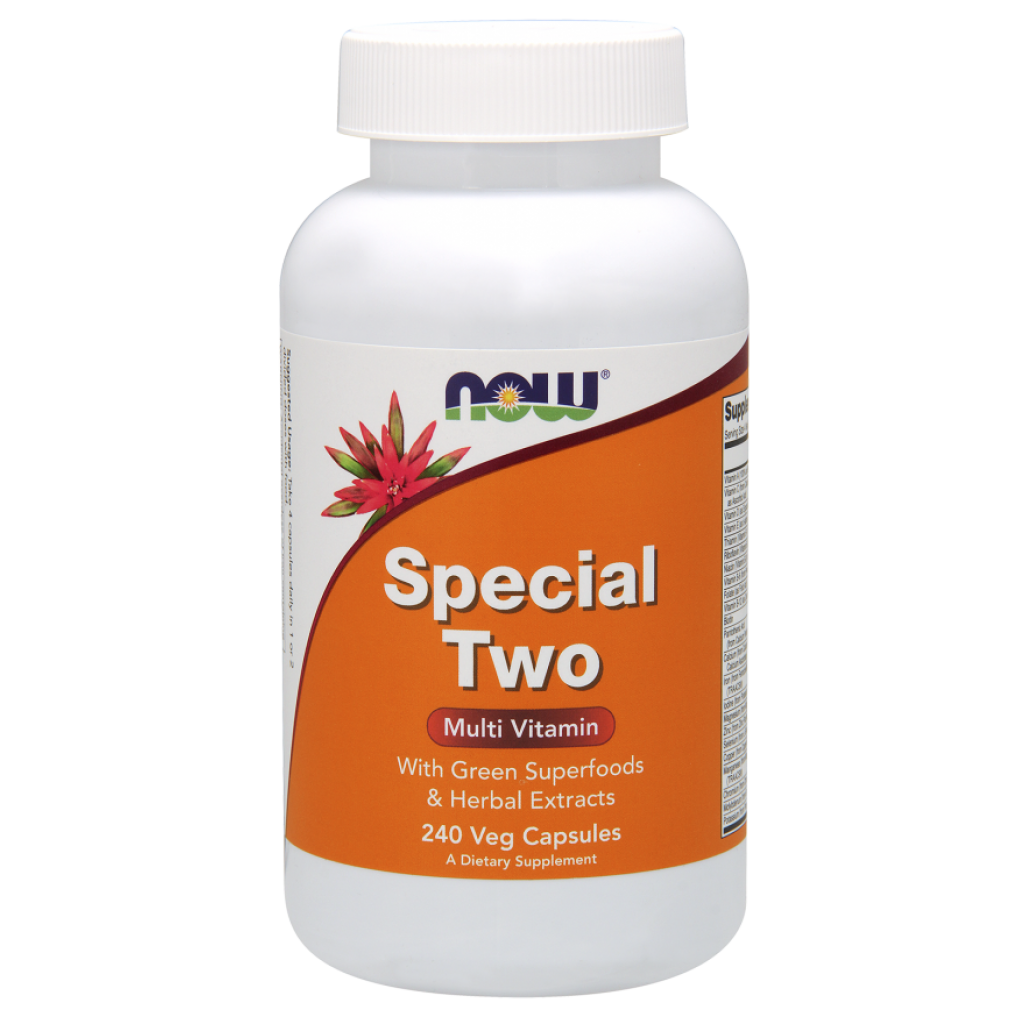 Brand Name
Product Name
Special Two Multi Vitamin Capsules
Price
Product Availability