Blackstone Labs Dust V2  US Version.
Hardcore Pre Workout Booster by Blackstone Labs with all new ingredients  and enormously strong formula. Buy Dust V2 online!  Hardcore Booster fans get ready. Dust V2 by Blackstone Labs is one of the most powerful and craved for Pre-Workout products.
Some years ago, Blackstone Labs brought the supplement industry to its knees with the most potent and strongest preworkout formula ! Angel Dust! Angel Dust not only led the category of Pre Workout Boosters, but reinvented how bodybuilders, athletes, and formulators would look at preworkout supplementation. For normal supplement companies a game changer only comes along once a decade, if they're lucky. For Blackstone Labs, it's a habit.
Endurance, Power & Pumping – nothing else!
Ingredients
Beta Alanine reduces lactic acid build up while training allowing for more sets and reps throughout the course of a workout.
L-Taurine increases mental concentration and alertness and can improve your overall sense of well-being. Taurine has proven to regulate oxidative stress, protect against hardening of the arteries, lower blood pressure, support blood sugar levels, and support energy production.
L-Carnitine Tartrate plays a vital role in energy metabolism, specifically the transport of fatty acids into mitochondria where they can be burned for energy. Recent research suggests added support in the way of better performance, testosterone support, and fat metabolism.
Citrulline Malate 2:1 is primarily known to delay the onset of fatigue during high-intensity training and a precursor to nitric oxide allowing for better pumps while training. Citrulline Malate actively delays pH buildup in the muscles. By keeping muscle pH levels at a manageable level, Citrulline Malate aids in recovery and helps to alleviate soreness.
N-Acetly-L Tyrosine benefits include mood enhancement, counteracting negative side effects of stimulants by lowering anxiety, and promoting healthy blood pressure during times of stress.
Velvet Bean Extract is a neurotransmitter that promotes enjoyment and interest in life.
Betaine Anhydrous may boost your production of vital neurotransmitters and support SAM-e levels in order to promote a positive outlook. It may also support body composition changes due to its effect on energy pathways, and might also decrease homocysteine levels, a marker of oxidative stress.
… an more.
Have a look at all ingredients at the official website of Blackstone Labs: https://blackstonelabs.com/products/dust-v2?variant=6609576645
Flavours
Available in four great tasting flavors:
Cotton Candy
Red Ice
Blackberry Lemonade
Blue Sky
Instructions:
As a dietary supplement, mix one (1) scoop in 8-10 oz. of water 30 minutes before your workout on training days, or first thing in the morning on non-training days.
Due to extreme potency, new users may wish to asses tolerance with one half (1/2) scoop.
---
Blackstone Labs Dust V2 US-Version Ingredients: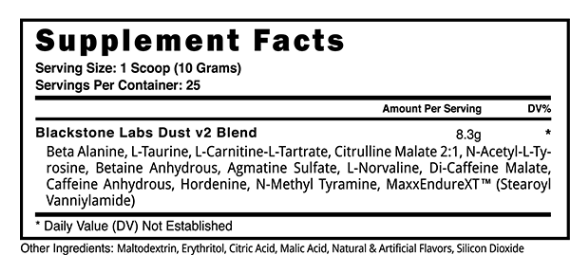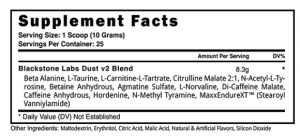 Serving Size: 1 spoon.
25 servings per container
Beta Alanine, L-Taurine, L-Carnitine-L-Tartrate, Citrulline Malate 2:1, N-Acetly-L-Tyrosine, Betaine Anhydrous, Agmatine Sulfate, L-Norvaline, Di-Caffeine Malate, Caffeine Anhydrous, Hordenine, N-Methyl Tyramine, MaxxEndureXT TM (Stearoyl Vaillalaminde)
---
Customer are also interested in Pre Workout, Pre Workout Booster, Testo Booster, Fatburners, Ephedrin HCL, Yohimbine HCL,  Yohimbin, Yohimbin HCL, Yohimbine, Yohimbine HCL, Yohimbe HCL kaufen, Yohimbe, Fatburner Kapseln, Fat Burner, Super Fatburner, Fatburner Tabletten, Abnehmpillen kaufen, Abnehmtabletten kaufen, Black Annis Pre Workout Booster GoldStar DMAA Appetitzügler, ECA Stack kaufen, Jack3d Booster, Hardcore Booster, Trainingsbooster!